Facial Feminization » FFS Surgeons
Dr. Narendra Kaushik
Facial Feminization Surgery In India
Dr. Narendra Kaushik, MCh, MS, MBBS is an award-winning plastic, cosmetic and reconstructive surgeon who has 15 years of experience with transgender surgery. He has operated on thousands of trans women over the years, both from India as well as from countries around the world.
Dr. Kaushik has extensive medical training and maintains memberships in Indian and International medical organizations, such as the World Professional Association for Transgender Health (WPATH). He has received numerous awards for his achievements as a surgeon, including:
Award of Excellence in Plastic and Transgender Surgery at the All India Achiever's Conference's 68th National Seminar (2014)
Best Cosmetic Surgeon in Delhi (2015)
Best Plastic and Cosmetic surgeon by SMT. Pratibha Patil (Former President of India)
Global Quality Award for Best Cosmetic and Hair Transplant Surgeon for International Medical Tourism
Dr. Kaushik is the founder and director of New Delhi-based, Olmec – The Premier Transgender Surgery Institute, the first centre of its kind in India that is certified by the International Board of Medicine and Surgery (IBMS). At Olmec, Dr. Kaushik offers the full spectrum of Facial Feminization Surgery (FFS) procedures, as well as Tracheal Shave, Hair Transplant Surgery and Voice Feminization Surgery. View before & after photos of Dr. Kaushik's FFS work here.
Forehead Recontouring

Brow Lift

Rhinoplasty

Cheek Implants

Lip Lift

Chin Recontouring

Jaw Recontouring

Tracheal Shave

Hair Transplant Surgery

Voice Feminization Surgery
"I wanted affordable quality care from a highly experienced surgeon with high patient satisfaction from reference-able clients."
– Sue Pascoe, patient of Dr. Kaushik's from the UK who received Gender Reassignment Surgery (Vaginoplasty) with FFS and Breast Augmentation. (India Times)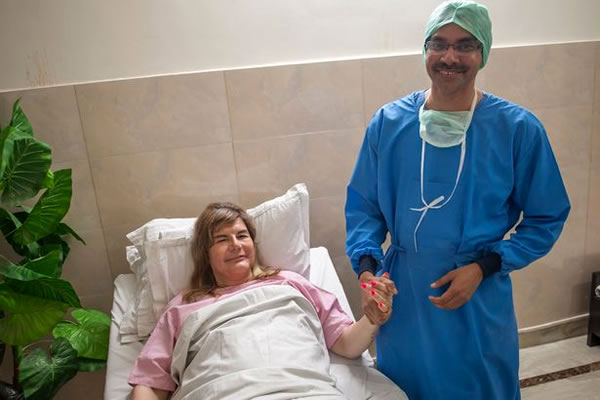 Sue Pascoe & Dr. Kaushik
Booking Surgery with Dr. Kaushik
Contact Dr. Kaushik to arrange your phone or in-office consultation.

Dr. Kaushik's wait list for surgery dates is 2-4 weeks depending on the procedure(s)

Accepted payment methods are cash, credit cards (MasterCard, Visa, American Express and Discover), bank transfer, debit card and PayPal.

You will require letters of surgery readiness from qualified healthcare providers as Dr. Kaushik follows WPATH guidelines for surgery.
---
Dr. Narendra Kaushik
Olmec - The Transgender Surgery Institute
JD Block 2nd Floor 3c, Gate No 2 Ashiyana chowk, Lala Jagat Narayan Marg
New Delhi, Delhi, 110034, IN
Phone: +91 96500 23401