Facial Feminization » FFS Surgeons
Dr. Kathy Rumer
Facial Feminization Philadelphia
Dr. Kathy L. Rumer is a board-certified plastic and reconstructive surgeon in the Philadelphia tri-state area. Her superior surgical skills and patient results have made Dr. Rumer a popular surgeon for trans women seeking Facial Feminization Surgery (FFS).
Dr. Rumer has extensive experience with FFS and offers the full range of procedures that feminize a patient's face:

Hairline Advancement
Browlift
Forehead Contouring Orbital
Rim Contouring
Eyelid Surgery
Cheek Augmentation
Rhinoplasty
Upper Lip Lift
Chin Augmentation
Neck Lift
Face Lift Fat Grafting
Laser Skin Resurfacing
Injectable Fillers
Tracheal Shave
To get the results you seek, Dr. Rumer evaluate your facial structure during your consult and recommend a surgical plan that's based on your goals and the best way to achieve them.
Do you attend any of the national transgender conferences? If so, you may have seen Dr. Rumer. She is a regular sponsor of and presenter at: Philly Trans Health, Southern Comfort, First Event, Keystone, Trans Ohio and Virginia TIES.
Dr. Rumer also offers cutting edge aesthetic procedures to help maximize your surgery results, such as Botox, Juvederm, Radiesse, and Platelet Rich Plasma.
Recovery Program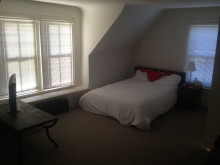 Dr. Rumer's recovery program helps patients stay in the Philadelphia area after surgery to recover. For $95/day, Dr. Rumer and/or her Nurse Practioner will see you every day. Stay at a local hotel (at additional cost) or stay in one of the guest rooms located on the third floor of the facility that houses Dr. Rumer's medical office and home. The guest rooms are large and comfortable, with a full-size bed, futon, flat screen TV with basic cable, WIFI, ¾ size refrigerator/freezer and a microwave oven. Restaurants, as well as local rail and AMTRAK stations, are just minutes away. Patients usually check-in the day before surgery. Length of stay after FFS varies depending on the procedures performed. One guest may stay on-site with you.
Other MTF surgery procedures available:
Vaginoplasty
Breast Augmentation
Body Contouring
Orchiectomy
Labiaplasty
Buttock Augmentation
Hair Grafting using advanced Follicular Unit Extraction technology
Consultations: Choose an in-person, phone or Skype consult. The consult fee of $100 will be applied towards your surgery.
Wait List: 2-4 months
Payment: Credit cards, checks and cash. Dr. Rumer also accepts insurance and financing from multiple medical financing companies, such as CareCredit.
---
Dr. Kathy Rumer, DO
Rumer Cosmetics
105 Ardmore Ave.
Ardmore, Pennsylvania 19003
855-782-5665
www.rumergendersurgery.com